iHome
Qi Wireless Charging Bluetooth Bedside Stereo Speaker Alarm Clock with Single Day Alarm, Dual USB Charging with Type-C


Hotel Features
Single Day Alarm prevents your previous guests unwanted alarms from sounding
Snooze button
Battery Backup (batteries included)
Qi wireless charging pad for compatible devices
Wake to Bluetooth audio or tone
Single Day Display Dimmer Each day at noon, the display resets to the same brightness, anticipating new guest preferences
Two USB charge ports to charge mobile devices1 USB Type-A: 12W 1 USB Type-C: 18W
Bluetooth
NFC Technology NFC (Near Field Communication) Technology, Instantly connects via touch compatible device to iHome unit for a quick and easy Bluetooth connection.
Bluetooth wireless audio Stream digital audio wirelessly from your Bluetooth-enabled audio device
PLEASE NOTE: iPhone 8 and higher are compatible with Qi Wireless Charging Technology.
Android Devices - check your phone for Qi Wireless Charging capabilities.
Not for use with metal cases
---


iHome
Wireless Charging Bluetooth Dual Alarm Clock with Speakerphone and USB Charging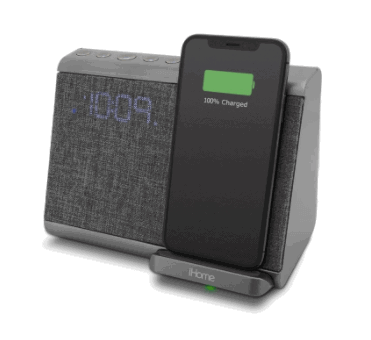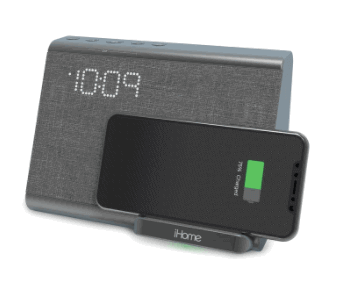 Enjoy horizontal or vertical wireless charging.


Wirelessly charge your (Qi compatible) phone with the iBTW39 Qi wireless charging bedside alarm clock. Stream your music wirelessly and enjoy great sound through Reson8 speakers. Charge a secondary device through the built in USB port, set alarms, and take calls from the device itself. Control lights, Smart Plugs, and other smart home devices with the integrated Smart Button featuring IFTTT integration. The iBTW39 also features a designer fabric so it looks beautiful in any room.
Wireless Charging
iHome SmartButton
IFTTT integration lets you control lights and thermostats from popular makers

Works seamlessly with iHome Control SmartPlugs
Special Features
USB port for charging iOS and other devices

Enjoy your music while keeping your device fully charged
Bluetooth
Bluetooth wireless audio

Stream digital audio wirelessly from your Bluetooth-enabled audio device

Audio caller ID

(Apple devices running iOS 10 or later)
Wake and Sleep
Alarm Clock
Dual alarm

Choose two separate wake times and alarm sources

Gentle Wake peacefully wakes you with gently ascending alarm volume

Sure Alarm battery backup for alarm during power interruptions

Sure Alarm battery backup for alarm during power interruptions (batteries must be installed)

7.5.2 feature to schedule alarms for everyday, weekdays or weekends
Time Sync
Speakerphone
PLEASE NOTE: iPhone 8 and higher are compatible with Qi Wireless Charging Technology.
Android Devices - check your phone for Qi Wireless Charging capabilities.
Not for use with metal cases
---
Alarm Clock Speaker with Wireless Charger
Stereo Dual Bluetooth Speakers, USB and Wireless Charging, FM Radio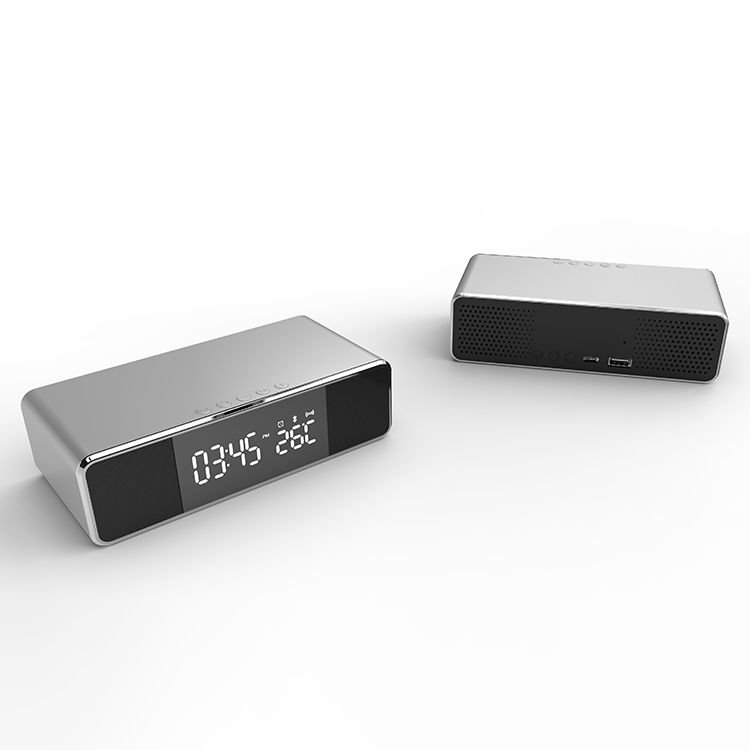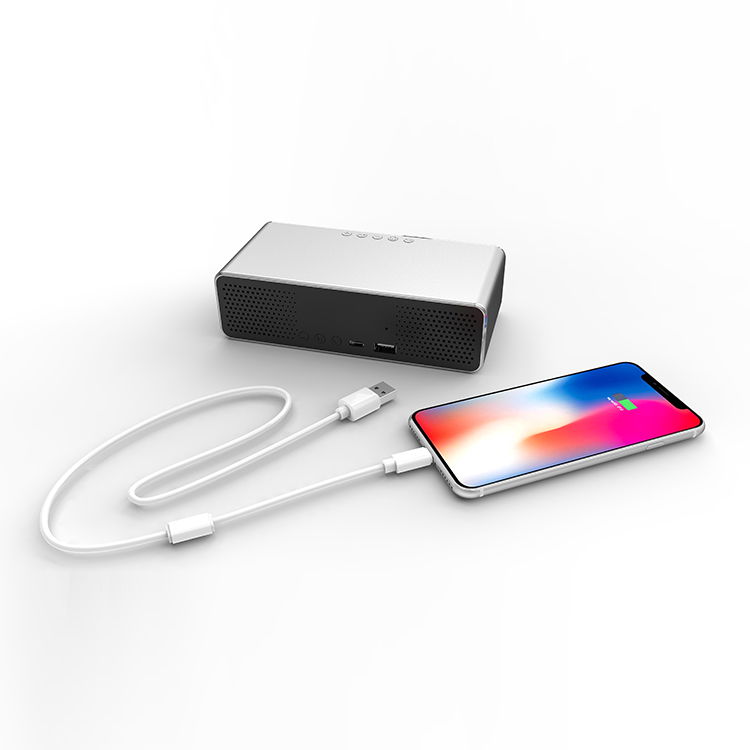 Features
Stereo Dual Bluetooth Speakers
Wireless Charging Function
Wired Charging Function
FM Radio Function
Alarm Clock
Temperature Display
Adjustable for Display Brightness
Non-slip mat on bottom
(Brandable) Big logo area on top
Customization Options
Silkscreen printing, Full color printing, UV printing, Water transfer printing
Available color: Silver
Unite Size: 160 x 45.5 x 77 mm
Printing Areas: Front and Back Side
Technical Specifications
Model: Wireless Charger Clock Speaker & Radio
Speaker: Φ33/4Ω/2.5V
Speaker x2
Type-C input: 5V/3A
USB output: 5V/1A
Wireless output: 5W
With radio function
Packing:
Standard white box
30CM 2A charging cable
Standard manual
---
Homtime
Wireless Charging Alarm Clock Radio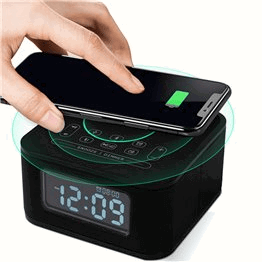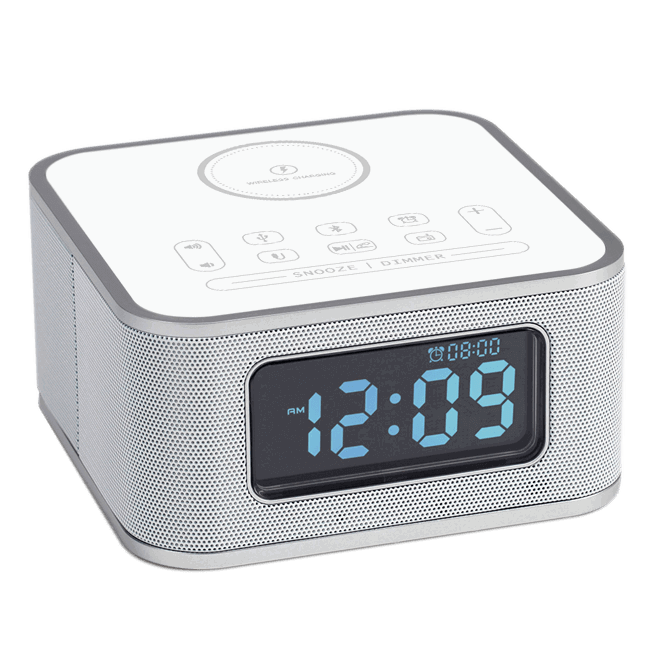 3.2 inches LCD large font display

Wireless charging function no more cable bondage

Dual super high bass speaker system

Aux-in jack for other audio inputs

Dual digital alarm clock

Bluetooth is easily paired with your iPod/iPhone/iPad or other Bluetooth-enabled devices

Built-in microphone provides a clear call through Bluetooth hands-free function

Design Simple and fashionable appearance

Hi-definition loudspeaker life-like sound quality. Turning any space into your own concert hall.

USB Charging Charge your mobile phone by USB port.